THE PYRENEES
The Pyrenees Mountains, north Spain
The Cave System of Arañonera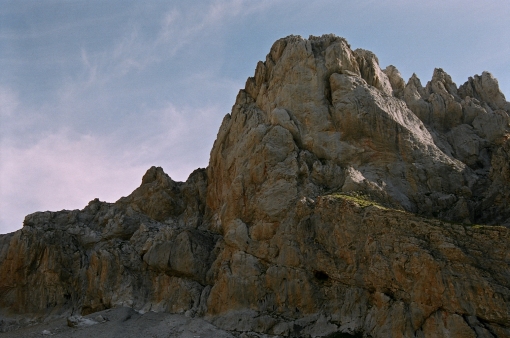 The rock above the camp where the Arañonera system's entrance S1 is located. Photo by Laura Tamoševičė
The Arañonera System is located in the mountain range of Tendeñera, which is in the Aragon part of the Pyrenees, just a few kilometers from the french border. It's very near the small village of Torla, at the west of the well-known valley of Ordesa (National Park of Ordesa and Monte Perdido). It's an alpine karst located between 1300 and 2900 meters of altitude.
For more than three decades Espeleo club De Gracia has been exploring a lot of cavities, summarizing more than 50 kilometers of exploration. The "jewel of the crown" is the Arañonera System, which has a drop of 1349 meters and a development of 42 700 meters (with 9 entrances linked to the system). Representing one of the most amazing crossings, besides the traditional T-1 / Santa Elena Cave (which has a drop of 550 meters), is the C-7 / Santa Elena Surgence, with a drop of 1338 meters and a run of over 9 kilometers; after the Lamprechstofen in Austria, it's the deepest crossing in the world.
Each year Espeleo club De Gracia is organizing camps to explore the system. For several years these camps became international. These camps may be distinguished by a lot of good food, a pleasant and friendly atmosphere and a variety of underground work. One may find for himself here an activity of any difficulty at any depth: from the search of new caves at the surface to the explorations lasting several days at the depth of kilometer and more. In 2006 two Lithuanian speleologists participated in this camp, and in 2007 there were already eight of us.
Lithuanian input in those camps also increases - in 2007 Lithuanians discovered about 100 m of new passages in the cave S7, in 2008 - about 400 m and in 2009 more than 900 m in the same cave. For now the cave S7 reaches the depth of aproximately 500 m and is almost 2 km long.
Also Lithuanians in 2008 discovered a new cave in this region. The cave was named Ula. After further explorations the cave appeared to be the higher entrance of another cave LB-6 that was known before but never explored to the end. For now the Ula cave is explored until the depth of 250 m but its bottom is still not reached.
Depth: -1349 m
Length: 42 700 m
The scheme of the Arañonera system
The photos from the 2006 camp of Arañonera
The photos from the 2007 camp of Arañonera
The photos from the 2008 camp of Arañonera
The photos from the 2009 camp of Arañonera